Tuesday, February 28, 2012
SIFT PROOF CARTON GLUING ELIMINATES THE COST OF BAG IN BOX.
An often overlooked cost advantage in carton filling is the sift proof carton glue option. The first thought when cartoning powders or granular product is to use the bag in box method. This of course works quite well but adds the cost of filling and producing the bag that will be used for the product and then requires loading the bag into the carton. Along with the additional cost of the bag material, packagers should consider the cost of operating and maintaining the bagger equipment.
An excellent option to the traditional bag in box filling method is to eliminate the bag completely along with all of the related costs and direct fill into the carton with a sift proof carton sealing configuration.
Consider the potential cost savings that can be realized by employing the sift proof carton sealing option along with direct filling into the carton.
Eliminates the purchase and maintenance costs of the bagger.
Eliminates the costs to purchase bag material especially during the spikes in the costs of petroleum based products.
Eliminates the costs required to load the bag into the carton. Direct filling into the carton via a integrated volumetric filler, auger or scale unit eliminates the manual loading of bags or the often complicated auto push loaders that contain many parts and jam areas.
PMP Machine does caution the purchaser to consider using only experienced cartoning machinery suppliers when opting for the sift proof carton option since the application requires custom designed glue heads to apply the proper glue bean pattern to the cartons to insure a tight seal.
Here is a typical PMP sift proof head that will be custom designed and built for your application.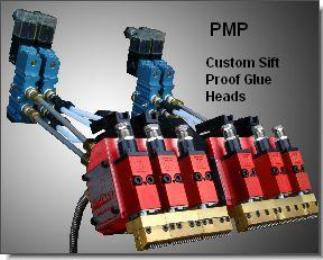 Contact PMP Machine to further discuss your Sift Proof Cartoning Requirements.
Tue, February 28, 2012 | link